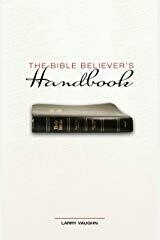 The Bible Believers Handbook 50% off the regular price of $14.95
SKU 0981495781
Product Details
The Bible Believer's Handbook contains over 1100 essential Bible verses that everyone needs to read. They're in a topical index and their accompanied by notes that explain what they mean. So it's a reference manual as well as a Bible study guide.

These are the thinks that God wants us to think about, talk about, and teach to our children. This is the wisdom of God that causes us to prosper in everything that we do.

The Bible Believer's Handbook is now on sale att 50% off the original price of $14.95. You save $7.50!

Save this product for later